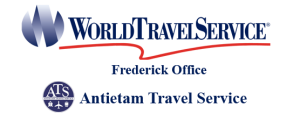 WorldTravelService® is proud to have partnered with Antietam Travel Service to bring you even more great travel options and perks!

Wherever you wish to travel, our travel expertise and experience can help. We have visited countless places around the globe – Great Britain, France, Italy, Germany, China, Dominican Republic, Turkey, Spain, Mexico, Kenya, Australia, New Zealand, Bora Bora, Greece… well, you get the idea. Give us just a little of your time, and we'll help you make memories to last a lifetime! Our knowledge, experience, and service are unmatched by any online travel agency.
We have been providing Personal Service Since 1984.



Antietam Travel Service is located in historic Frederick, MD. We are a full service travel agency that has been providing expert travel service to both our leisure and corporate clients since 1984. We pride ourselves in the professional level of personal service we provide through highly trained, knowledgeable travel advisors and the most advanced travel technology available. We will help you save time and find the best value.
ATS will provide the lowest available airfare in our computer reservation system at the time of ticketing. Our travel consultants compare all airlines for the lowest fare and the best schedule to fulfill our clients' needs. A nominal airline ticketing applies unless air travel is part of a cruise, tour, or FIT package.
One thing that sets us apart from most travel agencies is the experience and dedication of our travel consultants. We all receive continual training and travel extensively to familiarize ourselves with new and ever-changing destinations. And having a long working relationship with our clients enables us to provide truly exceptional personal service.
So what's changed? WorldTravelService® is a member of leading luxury travel network Virtuoso, and now Antietam Travel Service is too—meaning Antietam Travel Service clients will now get access to the world's best travel suppliers at the best value. And for WorldTravelService®, the addition of Antietam Travel Service to our growing travel agency means clients can now visit our convenient Frederick office when they want to meet with an agent in the area!
Give us a call at (301) 662-8080 or (800) 722-3489 to learn more about the newest member of the WorldTravelService® family or to start booking your next trip today!
Your Antietam Travel Service Agents
Alexandra Bohn, Manager
Pat O'Beirne
Julie Shanholtz
Anita Staley
Anna Lipka
Carmen Burdette
Contact Us at Our Antietam Travel Service Office Today
If you are located in the nearby Frederick, MD area, we're excited to be able to provide you with more personal support and an office you can easily visit. You may book an appointment for more information or to discuss your next trip with our local travel agents!
Visit the WorldTravelService® Antietam Travel Service Office
2190 OLD FARM DRIVE
FREDERICK, MD 21702