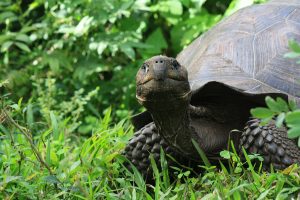 Travel to one of the last uninhabited places on earth – the legendary Galapagos Islands. Where untamed wildlife outnumbers the pampered travelers. Make moonlight toasts under the stars that led sailors and scientists alike to this extraordinary archipelago.
With more than 10 years in the Galapagos Islands, we've learned a lot about providing award-winning cruise vacations in this unique corner of the world. Now, along with our state-of-the-art ship Celebrity Xpedition®, we've added two ships to our fleet to offer even more all-inclusive vacations in the Galapagos. That means brand new 7-to-15-night itineraries featuring new ports of call. New activities and excursions. Newly expanded pre- and post-cruise experiences. If a modern luxury vacation in the Galapagos Islands wasn't on your bucket list before, it definitely should be on it now.

SHIPS THAT SAIL THE GALAPAGOS ISLANDS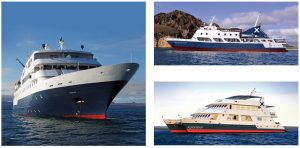 Sexy, stylish spaces make you feel like you're in one of the world's best boutique hotels, only with better scenery. And we have the awards to prove it.
Celebrity Xperience
Celebrity XperienceSM provides an incredible array of all-inclusive cruises and a choice of 7-night, 10-night, or 13-night all-inclusive vacations, featuring itineraries with exciting combinations of pre- and post-cruise land experiences. With 24 stylish staterooms—each featuring an ocean view and detailed extras that make a big difference—you'll find it easy to unwind and explore.
Celebrity Xpedition
Designed not just for travel, but for exploration, this 100-guest mega-yacht sails to the Galapagos Islands, one of the world's last pristine environments, seven days a week, 365 days a year. Our knowledgeable crew, environmentally sound ship design, and Galapagos National Park-certified onboard naturalists all help to preserve this delicate archipelago, while enlightening you to its natural and evolutionary significance. It's a journey like no other.
Celebrity Xploration
Aboard Celebrity XplorationSM, you'll experience the Galapagos on a vacation like no other. Sixteen guests will be indulged with seamlessly intuitive service and every creature comfort possible. This intimate ship is perfect for family get-togethers, getaways with friends, and small groups who want to explore together. Celebrity Xploration features new itineraries with ports of call we've never before visited.

 
An unforgettable journey is yours to create with Celebrity Cruise Line! Travel to exciting destinations aboard ships resplendent with elegant finishes and spacious accommodations.
With Celebrity Cruises, you'll enjoy an exceptional level of personal service, award-winning cuisine, world-famous amenities and accommodations that are the most spacious at sea. And with WorldTravelService® by your side, setting sail in luxury will be easier than ever. As dedicated Maryland, Virginia, and Washington, DC travel agents, we have built a unique relationship with Celebrity Cruise Line that gives our clients access to exclusive deals and even more amenities—alongside the added ease of having an expert take care of all the details for you.
From providing you with the best discounts to booking your flights to offering worldwide emergency support at each destination, WorldTravelService®, together with Celebrity Cruises, will ensure you the trip of the lifetime. Take the first step towards an unforgettable journey—contact us to speak with an agent today!
Perks of Traveling with Celebrity Cruise Line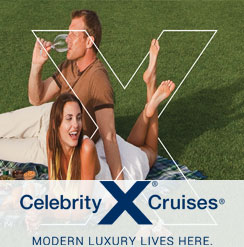 When you book your luxury vacation with Celebrity Cruises, the options are as limitless as your imagination. Encounter new perspectives with guided shore excursions or further enhance your journey with a Cruisetour—a cruise combined with a truly refined land tour venturing inland. Let Celebrity Xpeditions take you to wonderfully remote corners of the globe and provide you with wonderfully rare opportunities in a way no one else can. And while you're on board, benefit from:
The Canyon Ranch SpaClub
Celebrity's Fortunes Casino
Unlimited beverage packages
Luxury lounges and bars – Gastrobar boasts 40 handcrafted beers, while Martini Bar offers a cool, ice-topped setting and Ensemble Lounge provides a touch of elegance – just to name a few
Comedy, dance, musical theatre, and endless live entertainment
Modern, luxurious staterooms
And much, much more
Book Your Next Celebrity Cruise from WorldTravelService® Today!