For Over 50 Years, Princess Cruises Has Been Bringing People Closer
Princess Cruises gives you the chance to be in awe of the world again. Take a cruise vacation to the Caribbean, Europe, Alaska & many more destinations.
Princess Plus:  $95 value per day. Drinks, WiFi, and Crew Incentive Included!
Premier Beverage Package, Unlimited WiFi, and full crew incentive paid on your behalf for the duration of the cruise
Exclusive WTS Offer: Free Specialty Dining for two one night of the cruise when booking a mini-suite or suite stateroom!
Introducing Princess Premier - Get the value you love with Princess
Want to get more for your money? Princess has packaged items that guests often purchase
separately to offer them at a great value. You now have three options: Princess Standard,
Princess Plus and Princess Premier.
Sun, sand and a summer to love
Soak up the sunshine on iconic white-sand beaches. Discover new adventures in charming port towns and stunning national parks. And enjoy reconnecting with your family or friends during the longer days. What's not to love about summer vacations? Book a Princess cruise now to the world's best destinations and save up to 40% off cruise fares. Plus, reserve your spot for only $100 and pay the rest closer to your trip. Hurry! Summer will be here before you know it.
Offer ends May 2, 2023
Contact Us for Full Terms & Conditions
Choose Princess and See the World, Together
Choosing a cruise line that allows you to experience the most at every stop along the way is priority one. With Princess Cruises, discover what makes each port unique through the insights of local experts and crew members who sail with us to over 380 destinations. Embark on adventure with exclusive Discovery™ and Animal Planet™ shore excursions. Enjoy late night departures and overnight stays with More Ashore.
Browse through the wide selection of Princess Cruises to find the best option for your budget and desired vacation dates. If you have any questions about cruises or would like one of our travel experts to guide you through the booking process; contact WorldTravelService® today! We are always happy to offer assistance and help you plan the travel experience of your dreams.
The pages of History come alive with Women's Choice Awards' "Best Cruise Line in Canada & New England"
Experience colonial history, fresh seafood and quaint seaside towns along the shores of Canada & New England in 2023. Choose from 7- to 16-day voyages aboard Regal Princess® , and Caribbean Princess® , including our Greenland & Canada itinerary. All of our 7-day sailings visit Bar Harbor, the gateway to Acadia National Park. Every 10- to 13-day sailings offers a More Ashore overnight stay in French-infused Québec, Canada, where you can stroll the streets of Old Québec, a UNESCO World Heritage Site.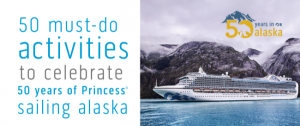 Over the past 50 years, we've helped guests create one-of-a-kind memories in Alaska, exploring everywhere from its pristine waterways to its unspoiled wilderness. Now we  invite you to join us as we celebrate our Golden Anniversary in the land of the gold rush. Discover some of the must-do activities you can experience with Princess, the #1 cruise line in Alaska, when you sail with us.*