Beach Trips
A Paradise Awaits You.
When it comes to taking a vacation, there's nothing more relaxing than a beach trip—especially when you don't have to plan it yourself! At WorldTravelService®, our leisure travel agents can handle every aspect of planning your beach vacation.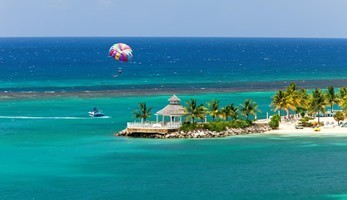 Get started today!
Search for destinations.
Sign up to get exclusive offers.
Some of our popular beach destinations include:
The Caribbean
When you think of a beach vacation, the Caribbean is probably one of the first places that comes to mind. Crystal clear water, silky beaches, all-inclusive resorts, and more—the Caribbean is home to some of our most popular beach destinations, including:
Anguilla
Antigua and Barbuda
Aruba
Bahamas
Barbados
Bermuda
British Virgin Islands
Cayman Islands
Dominican Republic

Grenada
Jamaica
Puerto Rico
Saint Barthelemy
Saint Kitts and Nevis
Saint Lucia
Saint Martin
Turks and Caicos Islands
U.S. Virgin Islands
Don't want to limit yourself to one island? Why should you? We offer great rates and amenities on Caribbean cruises that you'll be hard pressed to find elsewhere!
North & Central America Beach Destinations
Of course the Caribbean isn't home to ALL of the beautiful beaches! Consider the following North and Central American destinations for your next beach excursion:
Cabo San Lucas, Mexico
Cancun, Mexico
Costa Rica
Los Angeles, CA
Panama City, Panama
Puerto Vallarta, Mexico
And more
We also offer special tours that take you down the U.S. Pacific Coast—allowing you to explore from Seattle to San Francisco. Contact our leisure travel agents for more information!
Beaches in Asia and the Middle East
Looking for a not-so-standard beach vacation? See what Asia and the Middle East have to offer:
Myanmar
Philippines
Thailand
Indonesia
Qatar
Africa Beach Destinations
Go from safari to surf all in one vacation. We offer multi-day African tours with beach destinations in: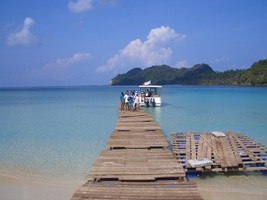 Tanzania
Kenya
South Africa
Madagascar
Mozambique
Senegal
Worried About International Travel?
If you decide to take your beach vacation outside of the continental U.S., let us organize every aspect of your trip—from passport services to currency exchange. We can even book English-speaking guides and transportation providers, if you choose to have those services. Our goal is to make your international cruise the trip of a lifetime and an unforgettable, seamless experience.
Book Your Next Beach Trip with WorldTravelService®
Looking for a beach trip that transcends the ordinary? Start at WorldTravelService®.
Our agents' expertise goes beyond simply being knowledgeable—when you plan your trip with WorldTravelService®, you access a wealth of resources, ingenuity, and insight to get a travel experience that exceeds your expectations.
Want to know why our luxury travel and vacation clients call us "simply the best?" Contact WorldTravelService® today and discover where your tropical dreams can take you. A paradise awaits you.