Corporate Retreat Planners in Washington D.C., MD & VA
There's nothing like a trip to bring a company together. Employees feel rewarded for all their hard work, and the team gets to bond in a one-of-a-kind way during a trip they'll never forget.
At WorldTravelService®, we take the stress out of planning a corporate retreat. Our corporate retreat planners handle all the details from beginning to end—from suggesting viable locations to getting everyone's flights and hotels booked and insurance taken care of. We work to make your trip enjoyable and eliminate the stress associated with it!
We've helped businesses from Washington, DC, Maryland, Virginia, New Jersey, and nearby states plan the corporate retreat of a lifetime and we look forward to serving you next!
Streamlined Corporate Retreat Travel
Your corporate retreat travel and hotel will be made to fit your group's needs and expectations while meeting your travel budget and reporting requirements.
Our corporate retreat agents at WorldTravelService® will:
Reserve hotel room blocks
Streamline group air travel from multiple cities
Arrange for ground transportation services.
Provide you with online access to your group travel data is also available 24/7 through a secure Member ID and password.
And more!
Corporate Retreat Planning for Any Occasion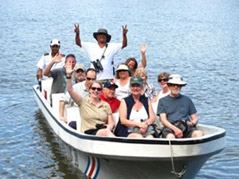 Whether it's a team-building trip or a reward for senior partners, your corporate retreat can take you anywhere. Of course, you'll need to consider your budget, how many employees will be traveling, and your primary goal for the trip—but don't worry, our corporate retreat planners can help!
At WorldTravelService®, your corporate retreat planner will coordinate all aspects of your trip to ensure you have all that you need to accomplish your goals—whether that means planning an outdoor adventure, a stay at a luxury hotel with plenty of space for meetings and receptions, or a tour of an exotic location.
We will handle local on-site travel and accommodations, as well as recreational activities, and can book and coordinate space for:
Workshops and training sessions
Executive meetings
Board meetings
Meals and receptions
And more!
Want to learn more about corporate retreat planning from WorldTravelService®? Contact us today!
Expect Excellence from WorldTravelService® Corporate Retreat Planners
What differentiates us from other corporate retreat coordinators in the Mid-Atlantic? We go above and beyond to provide you with:
Benefits. We are partnered with the world's largest global distribution system, which is used by 70 of the world's leading airlines, including Air France, British Airways, Lufthansa, and United. Our partnership gives us access to a nearly unlimited range of route options, discounts, amenities, and other perks that consumers and unaffiliated agencies are not afforded.
Security. WorldTravelService® has multiple internet connections in all of our locations to secure our access to information, even during carrier outages, technical difficulties, or local events. During any service interruption, our internal systems will automatically switch to an alternate service provider. This added security is imperative in a world that relies on the internet for daily operations and communication, and allows us to serve you better.
Dedication. We always place the customer's satisfaction and sense of security above every other business consideration. We establish strong, mutually beneficial relationships with suppliers of the highest quality products and services.
Begin Planning Your Corporate Retreat Today!
With WorldTravelService® taking care of the logistics, you can focus your attention on having a productive, successful, and enjoyable corporate retreat for your senior partners or employees.
Your staff will appreciate the travel experience and will grow from the time spent together away from the formality of the office setting. Work with our team of corporate retreat planners to foster productivity, motivation, and a sense of camaraderie in your employees that will stay with them when they return.
Let us put our extensive corporate retreat planning expertise to work for you! Contact us today to get started.