Travel Insurance – When the unexpected happens
Seasoned business travelers understand the importance of travel insurance providing coverage for emergency medical expense, delayed luggage, as well as additional benefits that are suited for business related trips, such as Cancel for Work Reasons.   Travelex insurance offers these benefits and many more with their benefits for business trip travel policies. 
Why buy a travel insurance plan? Because the unexpected does happen, life happens.  Be prepared, begin by getting a quote.
A family member gets sick
Your baggage is lost
Your trip is delayed
Your passport is lost or stolen
Weather prevents your travel
You need to see a doctor for a sudden injury
You miss a flight connection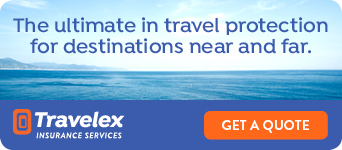 24 hour worldwide protection is available. Whether participating in a business seminar out of state, or visiting your international clients, you can travel confidently, knowing you are fully protected with Travelex.