Get Your Travel Plans ToGo
Booking your business trip or vacation with WorldTravelService® is easier than ever thanks to the mobile travel technologies available to our clients and travel agents alike. As a client, you'll have 24-hour access to the details of your trip—all from the convenience of your trusted mobile device.
If you are a current client, start enjoying the ease and convenience now by:
Our Mobile Travel Technologies
GetThere On Smartphones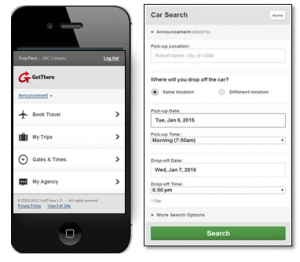 GetThere on smartphones replicates a corporate travel site on a handheld device, allowing travelers to shop and book air, car, and hotel reservations, view and share travel plans, check flight status in real time and quickly contact your corporate travel agency.
GetThere has recently been re-engineered, moving to the industry leading HTML5 technology that makes it available on any smartphone. It no longer requires you to download an app prior to use.
Features:
HTML5 technology: This industry leading technology provides the look-and -feel of an app, with the security and support flexibility browsers offer with no downloading.
Hotel Recommendations: GetThere suggests the best hotel within company policy.
Direct Purchasing Capabilities

:

Travelers can shop and book GDS hotels and flights and on airport Rental Car locations using their existing corporate profile and corporate travel policy. Also supports Purpose of Trip.
Personalization: Mobile users receive targeted messages to enhance their travel experience.
Flexibility: The database covers 300+ carriers around the globe, including gate and baggage claim information.
Integration: GetThere provides seamless Traveler login user login from their corporate intranet, when applicable via SSO.
Available Languages:

PYCCKHfi (Russian)
Japanese
Korean
English
Espanol
Francais (Canada)
Nederlands
Polski
Arabic
Chinese
Deutsch
English
Francais
Italiano
Nederiands (BE)
Portugues
From the smartphone browser:
Open a browser and type in the desktop URL and login with the same User ID/Password:
http://wcp.getthere.net/yourID
http://m.getthere.net/yourID
Or
SSO via company intranet link (if Single Sign on is supported)
Smartphone Shortcut:
Smartphone users can create GetThere icon to their phone's home screen
Or
Add a bookmark shortcut to their list of favorite sites within the phone browser.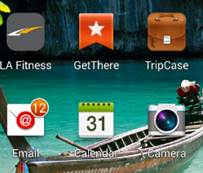 Smartphones supported: iPhone, Android, Blackberry, Windows
Following platforms are supported:
| Platform | Operating System | Browser |
| --- | --- | --- |
| Apple | iOS 6.1 | Default browser (Safari) |
|   | iOS 7.0 and 7.1 | Default browser (Safari) |
| Android | 2.3 (Gingerbread) | Default browser |
|   | 3.1 and 3.2 (Honeycomb) | Default browser |
|   | 4.0 (Ice Cream Sandwich) | Default browser and Chrome |
|   | 4.1, 4.2, and 4.3 (Jelly Bean) | Default browser and Chrome |
| Blackberry | 6 OS | Default browser |
|   | 7 OS | Default browser |
| Windows Phone | 8 | Default browser (Internet Explorer) |
 
Important Note:
Make sure your agency information is correct and update any messaging specific to mobile.
Attachments: Student Guide, Quick References, Carousel logo
Amadeus CheckMyTrip
At WorldTravelService®, we also offer mobile travel solutions through Amadeus CheckMyTrip—a service that gives travelers access to reservation details, destination information, including weather and currency exchange rates, and more.
Key features and benefits of the CheckMyTrip application include:
Key benefits

 

Easy to use

Access with traveler's surname and record locator

New improved look and feel with great usability experience

Regional parameters settings

Choose your language (among 23!)

24/7 access

One-stop reference point

Full, real-time reservation details on :

flight (duration, flight number,aircraft, seat maps, etc..)

hotel, car, cruise, car reservation as well as insurance

Destination sensitive information: display of related country guides, maps, weather forecast, dialling codes, world clock, currency exchange rates, subway maps for major cities etc.

Possibility to create a Personal Account and access a customised website integrating:

personal preferences such as default language (among 23)
list of past, ongoing and future recorded trips with Amadeus PNR – accessible anytime, no need to remember the record locator
additional personal comments to an imported trip or to its title

Time-saving direct links

Airline online check-in website link with associated logotype

Travel Agency website with TA logotype for quick and easy recognition

Easy to share and communicate with others

Post your travel details on facebook, download pdf itinerary, print it and/or send it to anyone by e-mail.

Download your entire itinerary into your electronic calendar including Google calendar, Apple iCal, GoDaddy Online Group Calendar, IBM Lotus Notes and Microsoft Outlook.
Our Mobile Travel Services—Just Another Reason to Make Us Your Travel Agency of Choice in D.C., MD, VA, DE, and PA
When you book your next business trip or vacation through WorldTravelService®, our mobile travel services are just one of the many perks of being our travel client. Unlike an online-only service that finds you cheap fares, WorldTravelService® is a complete travel management service that facilitates your entire trip and beyond. In addition to getting the best fares and rates tailored to your travel needs, we provide you with a range of value-added benefits that you simply won't find anywhere else.
Our agents are invaluable when it comes to:
Tested and trusted insider knowledge. Your travel agent brings you destination expertise, discounted hotel rates and airfares, all-in-one package deals, and exclusive specials and promotions. Helping you determine your budget and refine your options is the first benefit that comes with working with a professional.
Savings that go beyond mere discounts. Think a travel agent is too expensive? Think again. Rather than paying more for your vacation, you are likely to pay less—and get more. A good travel agent is your advocate and puts your interests first.
Peace of mind—at every step. Your travel agent is there for you before, during, and after your trip. And that bonus peace of mind comes at no extra charge.
Contact WorldTravelService® today to put your travel into capable hands.