Alert
FOR EMERGENCY OR AFTER-HOURS ASSISTANCE WITH CURRENT AIR RESERVATIONS, PLEASE REFER TO YOUR CONFIRMATION FOR YOUR UNIQUE AFTER-HOURS NUMBER AND ACCOUNT CODE. SERVICE CHARGES MAY APPLY.
Cancelled flight? Are you stranded in an unfamiliar place? Let WorldTravelService® guide you to your final destination no matter what time of day. We provide Travel24™ emergency support that you can access 24 hours a day, 7 days a week and 365 days a year!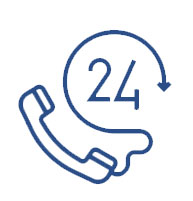 Your time is important and after hours or in an emergency situation playing phone tag with an unfamiliar travel agent can be frustrating. We guarantee a live voice will answer each and every time you call. All of our travel agents possess the "do what it takes attitude" and we work around the clock so you don't have to.
Emergency Travel Assistance
We use the best travel technology available to ensure complete accuracy, cost, efficiency, and security. Your complete satisfaction in every aspect of your experience with WorldTravelService® is our number one goal. As part of the world's largest global distribution system, we have access to an unlimited range of route options and amenities. This gives us the opportunity to find last minute flights and reservations that other agencies cannot. Our Travel24™ emergency support service provides:
Emergency assistance
24  hour information and travel advice
Flight rebooking
Hotel rebooking
Rental vehicle booking
Passport and visa services
Reservation adjustments
Emergency return travel arrangements
Roadside assistance
Rental vehicle return
Guaranteed hotel check-in
Missed connections coordination
Lost/stolen baggage assistance
How Does the Emergency Travel Service Work?
All WorldTravelService® travelers are provided with a 24 hour emergency service telephone number with their itinerary package. We find that service by telephone is often the quickest and most efficient way for our clients to get ahold of our 24 hour travel agents. In the event you cannot call via telephone you will have access to a live person who knows your travel information via email or fax. Our emergency travel agents have the ability to access any and all existing bookings as well as build new ones on behalf of any WorldTravelService® traveler.
24 Hour Alerts and Security
Here at WorldTravelService®, our highest priority is the safety and security of our clients. With that, we:
Continuously monitor state department alerts so that we can inform you of any changing circumstances that may influence future travel activities.
Provide up-to-the-minute Transportation Security Administration (TSA) updates.
Alert you to any other issues that may affect your trip.
Why Choose WorldTravelService®
Thousands of happy travelers trust their travel needs with us. We hope you'll give us the chance to show you why we are considered one of the best. We are committed to providing high-quality, cost-effective group travel management to our clients.